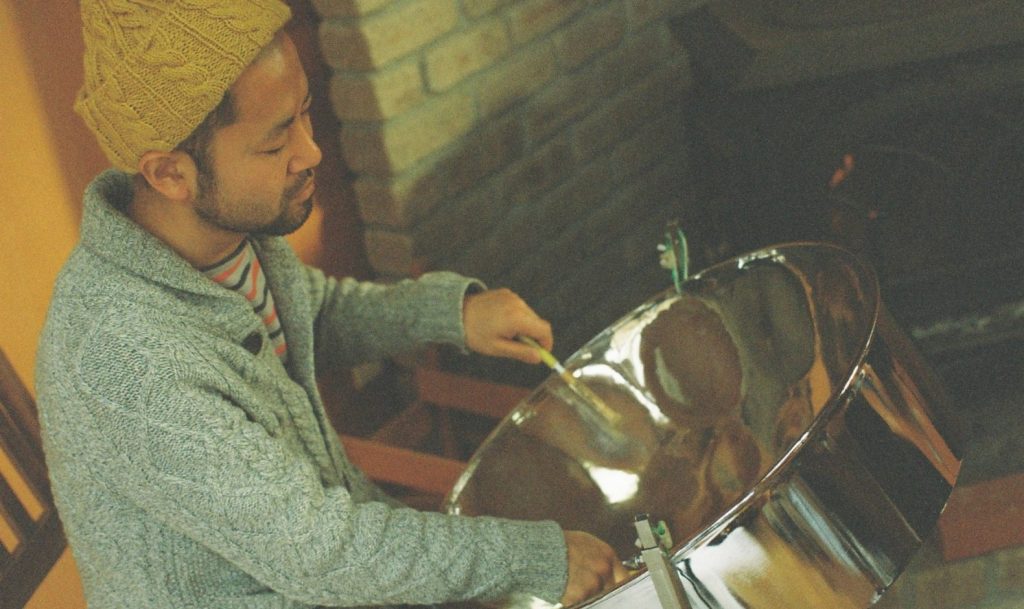 渡辺 明応(わたなべ あきお)

スティールパン、ギター・ウクレレなどマルチ弦楽器奏者。
2009年、WAIWAI STEEL BANDに加入。
スティールパン発祥地トリニダード・トバゴへ2017年に渡航。
初のソロアルバム『in my room』を2018年5月に発表。
ギタリストのPaniyoloとのデュオアルバム『空も少し』を2019年10月にリリース。
共同制作も積極的に行っており、n'sawa-saracaとのLo-Fi Projectでは、Lo-Fiビートにキーボードとスティールパンを融合させ、独自の世界を作り上げている。
明るい人柄と柔らかい音楽性を所望する声も多く、楽曲制作やライブサポートにも尽力を惜しまない一面を持つ。

– – – – – – – – – – – – – – – – – – – – – – – – – – – – – –

Akio Watanabe

He is a multi-instrumentalist who plays a steelpan, a guitar and an ukulele.
During his working years he met the steelpan, then joined WAIWAI STEEL BAND in 2009.
From January to March 2017, he travelled to Trinidad and Tobago where the instrument was originated, then joined the historic Starlift Steel Orchestra and participated in a competition.
He became the first Japanese to perform in the front line of the steelpan band of 120 members.
In may 2018, he self-releases a first solo album "in my room"
In 2019 autumn, release a duo album "Sora Mo Sukoshi" featuring paniyolo (Guitarist)
He is also actively involved in joint productions, most notably the Lo-Fi Project with n'sawa-saraca , where he fuses keyboards and steelpan to create a floating, cosmic sound over Lo-Fi beats, creating a unique world of his own.
With his cheerful personality and gentle music, he spares no effort to give supports to music productions and live performances.